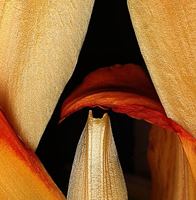 As an alchemist of the 21st century, I gather these "Natural Selections" and transform them using processes particular to our age. Just as chemicals were manipulated more than a century ago to create art in traditional photography, I mix potions of pixels to create compositions that explore the beauty of the natural world.
In this series of "Natural Selections", the raw materials used to create these works were often culled from familiar, intimate settings including the garden in my yard and local hiking trails. I've collected these snippets of beauty and wonder in times of quiet, calm, discovery and reflection. In these moments, my ability to truly see, which is the artist's greatest gift, is most pronounced.
Back in the studio, I select and create "digital photograms" by placing the found materials directly on a scanner to produce the original images. I then interpret and enhance these images pixel by pixel. The finished prints are a testament to the memory of the original discovery and the beauty of these "Natural Selections".